CNC Machining & Hard Coating of Stainless Steel Components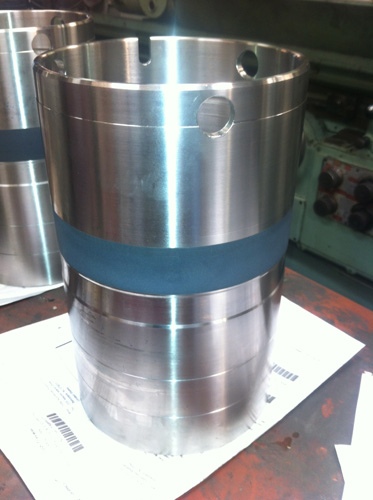 A client in the food preparation industry was in need of a customized stainless steel component to be used in a food preparation application. This shaft sleeve for a #33 refiner was made from 316 stainless steel with a material finish of 20 RMS. To fabricate this component, we used our CNC lathe to turn the outer and inner diameter of the shaft sleeve and then drilled three holes on the right end of the part and milled a 3/8" slot on the outer diameter on our horizontal mill. The cylinder grinder was used to finish grind the outer diameter. The part was coated with wear-resistant ceramic to protect it from damage and corrosion.
Measuring 7.000" O.D., 6.512" I.D., and 11.250" long, this part was manufactured to tolerances of ± 0.0015", ± 0° - 30', perpendicularity of 0.002", parallelism of 0.002", and concentricity of 0.002". During the manufacturing process we performed in-process inspection and diameter and surface finish checks. This project was completed and delivered to the customer in 3 days.
The table below outlines the specifications for this CNC machining and hard coating project. Please contact us if you would like more information.
Highlights of this CNC Machining & Hard Coating of Steel Component Project